Actuellement / On going
Vous vous déplacez régulièrement à Montpellier et sa métropole ? 
Participez à notre projet de recherche POTEM avec cette enquête !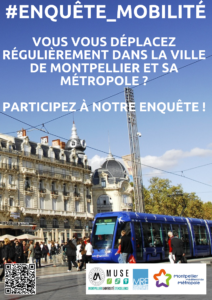 En collaboration avec Montpellier Méditerranée Métropole, l'I-SITE MUSE – Université de Montpellier et le laboratoire Montpellier Recherche en Economie, l'objectif de l'enquête est de déterminer les conditions d'acceptabilité de différentes mesures visant à réduire les nuisances collectives.
Actuellement / Ongoing
Conférence Annuelle de la Society for Economic Research on Copyright Issues / Annual Congress of SERCI 
La conférence annuelle de la SERCI se déroule les 8 et 9 juillet 2019 au sein de Montpellier Recherche en Economie et sera organisée par Alain Marciano
The 2019 annual congress of SERCI holds in Montpellier (France) on Monday 8th and Tuesday 9th of July. The local organisation of the event will be undertaken by Alain Marciano.
Passées / Past
Doctoral meeting in association with MRE The Association of Doctoral Students of Montpellier in Management and Economics organizes the eighth edition of the Doctoral Meeting of Montpellier on October, 2018, at the University of Montpellier, Faculty of Economics. This year, keynote speakers are Joan Esteban and Xavier Timbeau. Presented works embrace a wide range of topics in Economics, Management and Finance (Further details about DMM2018)
École d'Été de l'Économie Numérique (3EN)    Dans le cadre de l'AFREN et soutenue par la chaire Innovation Régulation (TELECOM Paris Tech) et MRE, la cinquième édition de l'École d'Été de l'Économie Numérique (3EN) se déroulera à la Faculté d'Économie de Montpellier le 28 et 29 juin 2018. Consulter le programme
International Conference on Finance (ICF)      Montpellier Recherche en Economie is happy to welcome and sponsor the International Conference on Finance on behalf on its local organizer François Benhmad. We look forward to welcoming you to Montpellier for the conference that will take place in May 24 and 25, 2018 in Montpellier France ( Further details about ICF 2018 / Call for papers ).